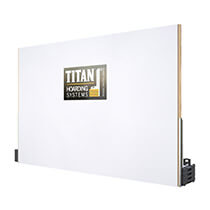 INTERNAL (A CLASS) HOARDING
KIOSK / WORK ZONE HOARDING
EXTERNAL WIND RATED HOARDING
CONSTRUCTION PORTAL INTERNAL & EXTERNAL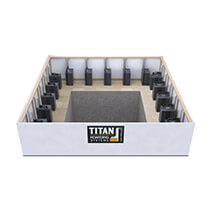 BALUSTRADE REPLACEMENT / VOID PROTECTION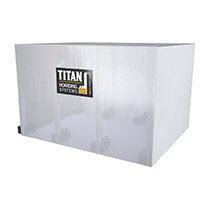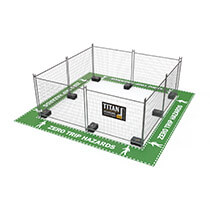 Construction Site Hoarding Walls Made Safe & Simple
ZERO need for Supports or Cross beams
ZERO need for Supports Cross Beams for Engineering Certification
ZERO need for connection to floor or ceiling finishes, TITAN is 100% free standing
70 x 45 MGP10 only, readily available from your local timber supplier, e.g. Bunnings
One system, multiple configurations; all supported by Manuals
Easiest and Safest installation of any construction hoarding system
Certified for 12mm MDF, 15mm Ply, 16mm Laminate & 50mm EPS (cold room panel) Other panel thickness are available
TITAN can be installed in just three easy steps
Designed to be easily modified
Can be re-configured to suit construction site requirements
Can be used as a permanent or temporary internal hoarding or external hoarding barrier
TITAN is the lightest & most advanced Engineer Certified free standing construction site hoarding system available.
Construction sites pose a myriad of hazards that must be controlled. Depending on what state your project is located, The Work Health and Safety Act or Occupational Health and Safety Act applicable to that state sets out the requirements and standards for a safe and healthy workplace. The applicable Act outlines what you must do to protect the health, safety and welfare of workers and pedestrians in a workplace such as a construction site. Additionally, many local government areas have minimum performance standards for building site hoarding which must be met to in order to be granted a permit. TITAN Hoarding Systems' Internal Hoardings assist with your compliance & risk management responsibilities being Engineer Certified to Australian Standards AS 4687, AS 1720.1 and AS 1664.1 Titan hoarding allows builders to continue construction without affecting passing pedestrians.
TITAN Hoarding Systems A Class construction site hoarding system has been designed and comprehensively tested by Engineers to withstand impacts to both the front and the rear of the hoarding to give you peace of mind that your building site perimeter is protected by ENGINEER CERTIFIED PUBLIC PROTECTION™.
Permanent Or Temporary Hoarding – The Choice Is Yours
Our Hoardings are aesthetically pleasing and can be used as either a permanent or temporary hoarding system . Apply a graphic to our hoarding and it is instantly transferred into a revenue generating advertising banner! Titan Hoarding Systems are available to buy or hire in Sydney, Melbourne, Brisbane, Perth, Adelaide, Canberra and all regional areas of Australia, with fast installation available via our network of trained installers.
INTERNAL (A CLASS) / RETAIL SHOPFRONT HOARDING / HOARDING WALLS
TITAN's Engineer Certified Internal (A Class Hoarding) / Shopfront Hoarding free stands up to a massive 7.2 metres high! As TITAN's counterweighted hoardings are compact and modular, they are simple to install, a breeze to modify and removed with ease.
KIOSK / WORK ZONE HOARDING
TITAN's Engineer Certified Kiosk or Work Zone hoarding is a 1.2 metres high free-standing counter weighted hoarding that is easy to construct, remove and modify.
EXTERNAL WIND RATED BUILDING SITE HOARDING
TITAN's Engineer Certified External Wind Rated Hoardings are capable of free-standing up to 3.6m high and have been designed and pre-engineered with a wind loading capable of up to 79 m/s (284 + km/h) free standing. No fixings or ground penetration required! Higher wind loadings can be achieved with bracing. The safest and most advanced building site hoarding available in Australia.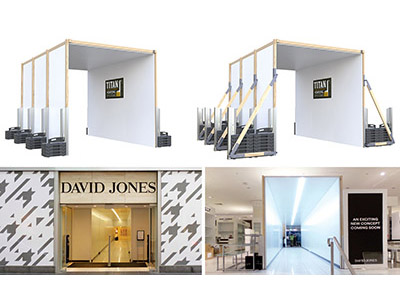 HOARDING CONSTRUCTION PORTAL INTERNAL & EXTERNAL
TITAN's Engineer Certified Construction Portal (Tunnel) allows safe access through a construction site. The portal can be used internally or externally and with flexible heights which are completely freestanding, TITAN's modular hoarding systems can convert any construction site into a clean, safe and aesthetically pleasing passage point for your customers.
BALUSTRADE REPLACEMENT / VOID PROTECTION - CROWD RATED
TITAN has Australia's only Engineer Certified free standing temporary Balustrade Replacement / Crowd Rated Void Protection System. With height ranging from 1.2 to 3.6 metres, this is a completely free standing counterweight hoarding.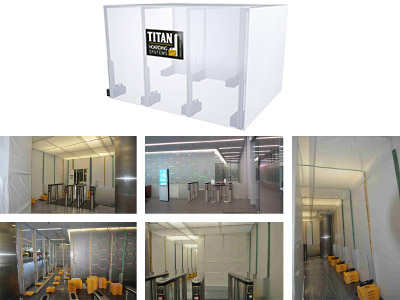 DUST ENCAPSULATION HOARDING
TITAN Dust Encapsulated hoardings have no limits to height or size, are completely free standing and the light and modular design allows for deployment and removal with relative ease. You can remove concrete from a trading Shopping Mall and know the dust is 100% contained to your work zone.
12-24 SECURITY BARRIER
TITAN's 12-24 Security Barrier was designed for areas where a secure work zone barrier is required while maintaining line of sight over the structure.
TITAN's 12-24 Security Barrier has no limits to height or size and as with all of TITAN's free standing counterweight hoardings, they are light and modular which allows for simple installation, easy modification and quick removal.
DISPLAY WALL
Make a statement with your hoarding! TITAN's Display Wall can be installed as a visual aid, billboard, a media wall backdrop, to advertise products or services or simply as a statement feature.
The TITAN Display Hoarding Walls have no limits to height or size and TITAN's free standing counterweight hoardings are light and modular which allows for quick and easy installation, simple modification and can be removed with ease.
TITAN Zero Trip fence base, an Australian Award-winning product, converts any standard 32mm OD temporary fence into a pedestrian safe, trip-free solution.
The TITAN Zero Trip temporary fence base is a patented design that removes the protruding fence feet eliminating the risk of trips and falls to the public.
TITAN revolutionised the fencing industry by eliminating the risk of trip hazards on all pedestrian areas and pathways. You'll never have to worry about a pedestrian tripping over a temporary fence base again.
The TITAN Zero Trip temporary fence base also allows for increased wind loading capability by increasing the pivot distance by an additional 400mm and allows for a heavier counterweight if required. Each base can stack up to 4x the number of counterweights when compared to a standard temporary fencing panel.
The bases are machine welded for consistency and feature an anti-tamper design with the option to securely lock counterweights to the fence base.
Engineer certified, pedestrian safe temporary fencing is now available for your construction site.
The TITAN Zero Trip temporary fence base is suitable for use with either TITAN counterweights or standard temporary fence weights and there is a full installation manual detailing the different configurations available.
What is Construction Site Hoarding?
Construction Hoarding, also known as A-Class hoarding, is the use of self supporting boards, panels and other standing structures, erected to create a fence barrier around the perimeter of a construction site to maintain public safety, security & privacy. Construction site hoarding prevents dust and debris from escaping the work zone, prevents unauthorised access and has the added benefit of also acting as a billboard for advertising material.
Hoardings are used in both internal & external construction sites throughout Australia and are governed by the requirements as set out by the 2022 Australian standard AS 4687:2022 Temporary fencing and hoardings. It is generally installed with a lockable access door, allowing development site owners to restricting access to authorised personnel only.
A Class hoarding differs from B Class hoarding with the latter providing overhead protection from falling debris.
How is Hoarding Installed?
Historically, hoardings were installed by fixing them to existing finishes, including ceiling plasterboard – which is incredibly dangerous for members of the public and construction site workers. Titan Hoarding Systems are free standing – making them the easiest & safest engineer certified construction site hoarding solution on the market. 
What Material is used for Construction Hoarding?
Titan Hoarding Systems are certified for use with 12mm MDF, 15mm Ply, 16mm Laminate & 50mm EPS panels and 70×45 MGP10 timber – all of which are easily accessible from your local timber supplier. 
What is the Maximum Height of Titan Hoarding Systems?
Titan Hoarding Systems internal hoardings are engineer certified up to a maximum height of 7.2 metres.Our external, wind rated hoardings are certified up to 3.6 metres high and able to withstand loading loadings of 284 + km/h.
What are the Two Main Types of Hoarding Used on Building Sites?
The two main types of hoarding used in construction sites in Australia are:
A Class Hoarding – also referred to as 'Class A' or 'Type A Hoardings, is used to provide a barrier between a construction site and the public.
B Class Hoarding – also known as 'Overhead' or 'Gantry Hoardings' is used to provide overhead protection to the public.
We've detailed the differences between A Class Hoarding & B Class Hoarding here.
ONE ENGINEERED SYSTEM
MULTIPLE ADAPTABLE SOLUTIONS™
MODIFYING IS A BREEZE: Lift a few weights off, modify and replace weights.
REMOVAL IS SO SIMPLE: with ZERO DAMAGE TO FINISHES, so ZERO REPAIRS!