Titan Temporary Construction Dust Barriers
Flying particles, debris and dust are commonplace on construction sites and when construction work is in progress, it is highly likely that a large amount of dust and debris will be generated. The Work Health and Safety Act or Occupational Health and Safety Act applicable to the state where work is being carried out requires worksites to be contained.
Furthermore, escaping dust particles from a construction site can cause havoc for nearby retailers, businesses and the public. Not only is escaping dust a health hazard, but it is also time consuming and costly to clean up as the fine particles can travel large distances. TITAN's dust barrier hoardings ensure that dust, debris and flying particles do not escape the construction area.
Flexible in height and size, there are multiple configurations available to suit your worksite. You may want to add a dust barrier to the top of a standard internal hoarding, or you may not need any solid panels and just want to use full height dust suppression barrier. The options are endless and with the ability to free stand up to 7.2m high, we have a construction dust barrier configuration to suit your work site.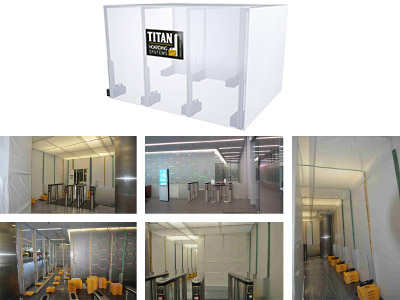 ONE ENGINEERED SYSTEM
MULTIPLE ADAPTABLE SOLUTIONS™
MODIFYING IS A BREEZE: Lift a few weights off, modify and replace weights.
REMOVAL IS SO SIMPLE: with ZERO DAMAGE TO FINISHES, so ZERO REPAIRS!