Construction Portal Internal and External Wind Rated
With its modular and easy to assemble design, TITAN pioneered construction portals which are sometimes referred to as 'tunnels'. These hoardings can be used internally or externally and are simply two standard A Class or external wind rated hoardings that are installed parallel with a protective roof.
TITAN's simplistic design provides a safe passage through a construction site for either the public or employees.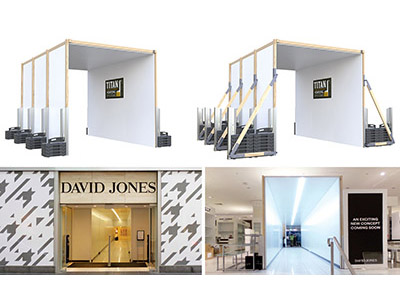 These hoardings also provide construction sites the opportunity to have weatherproof access to or from the site and they can also disguise the construction site entirely and stop prying eyes! Lighting and signage can be attached to the construction portals to guide pedestrians safely around the construction zone.
TITAN's construction site hoarding portals can be designed to act as a floor providing peace of mind that pedestrians will be safe from falling debris.
Construction is complex and at times you will need to allow safe passage or access to areas of your site. Construction portals allow safe access to areas of the construction site that need to remain open. This is critical for some sites including hospitals, airports, offices and main points of entry and egress such as lobby's and lifts.
All of TITAN's construction portals are Engineer certified to Australian Standards AS 4687, AS 1720.1, AS 1170.0, AS 1170.1 and AS 1664.1.
ONE ENGINEERED SYSTEM
MULTIPLE ADAPTABLE SOLUTIONS™
MODIFYING IS A BREEZE: Lift a few weights off, modify and replace weights.
REMOVAL IS SO SIMPLE: with ZERO DAMAGE TO FINISHES, so ZERO REPAIRS!