TITAN ECO® Metal Hoardings
Our hoardings have been traditionally made from pine but at TITAN Hoarding Systems, we are committed to moving towards a more sustainable operation, starting with our TITAN ECO<sup>®</sup> which is our latest offering in Metal hoardings. These hoardings are typically made of aluminium but often referred to as "steel hoardings" and are available to fit any of our hoarding system configurations. These metal hoardings will reduce the quantity of fixings required and strengthens and streamlines the installation process to save time.
If you're looking for sustainable hoardings, contact TITAN Hoarding Systems. Call us on 1300 848 266 or send us an email for any further questions or information.
Why choose sustainable steel hoardings?
More businesses are weary of their carbon footprint and are making more of an effort than ever to be eco-friendly. One of the most important benefits an aluminium hoarding offers is that it can help to reduce a business's carbon footprint.
This is because sustainable hoarding practices often involve using recycled materials, which require less energy to produce than traditional materials. Additionally, sustainable hoardings help to save money on energy costs, as it is typically more energy-efficient than traditional hoarding practices.
Australian-made aluminium
Aluminium hoardings are a great choice for a more sustainable solution. The material is strong yet lightweight, making it ideal for a range of applications. It also has a long lifespan, so you can be sure that your hoardings will last. The materials used to create this new type of hoardings is 100% recyclable as well, meaning they will not end up in landfill. This makes them an excellent choice for those looking for an eco-friendly solution. By choosing TITAN Hoarding Systems, you're choosing hoarding systems that are good for the environment.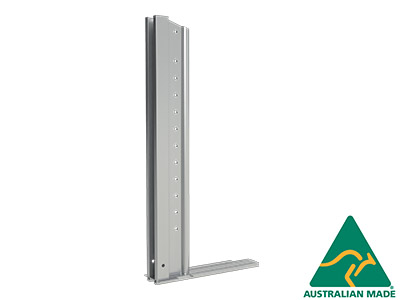 Why you should choose TITAN
If you're looking for a building equipment hire service that is committed to safety and sustainability, look no further than TITAN Hoarding Systems. Our innovative designs take both of these factors into account, ensuring that your project is completed safely and with minimal impact on the environment.
Safety and sustainability are at the forefront of our practices. We're proud to support local industries and ensure that our products are manufactured right here in Australia. This means that you can be confident that you're getting sustainable and cost-effective metal hoardings when you choose us. We only use the highest quality Australian-sourced and made steel.
Choose sustainability. Choose TITAN.
By choosing sustainable hoarding practices, businesses can help to make a positive difference in the world while also saving money on operating costs. We're the only company in Australia proudly manufacturing sustainable and eco-friendly, temporary "steel hoardings". Contact us at 1300 848 266 or email us for any further questions or information.
ONE ENGINEERED SYSTEM
MULTIPLE ADAPTABLE SOLUTIONS™
MODIFYING IS A BREEZE: Lift a few weights off, modify and replace weights.
REMOVAL IS SO SIMPLE: with ZERO DAMAGE TO FINISHES, so ZERO REPAIRS!